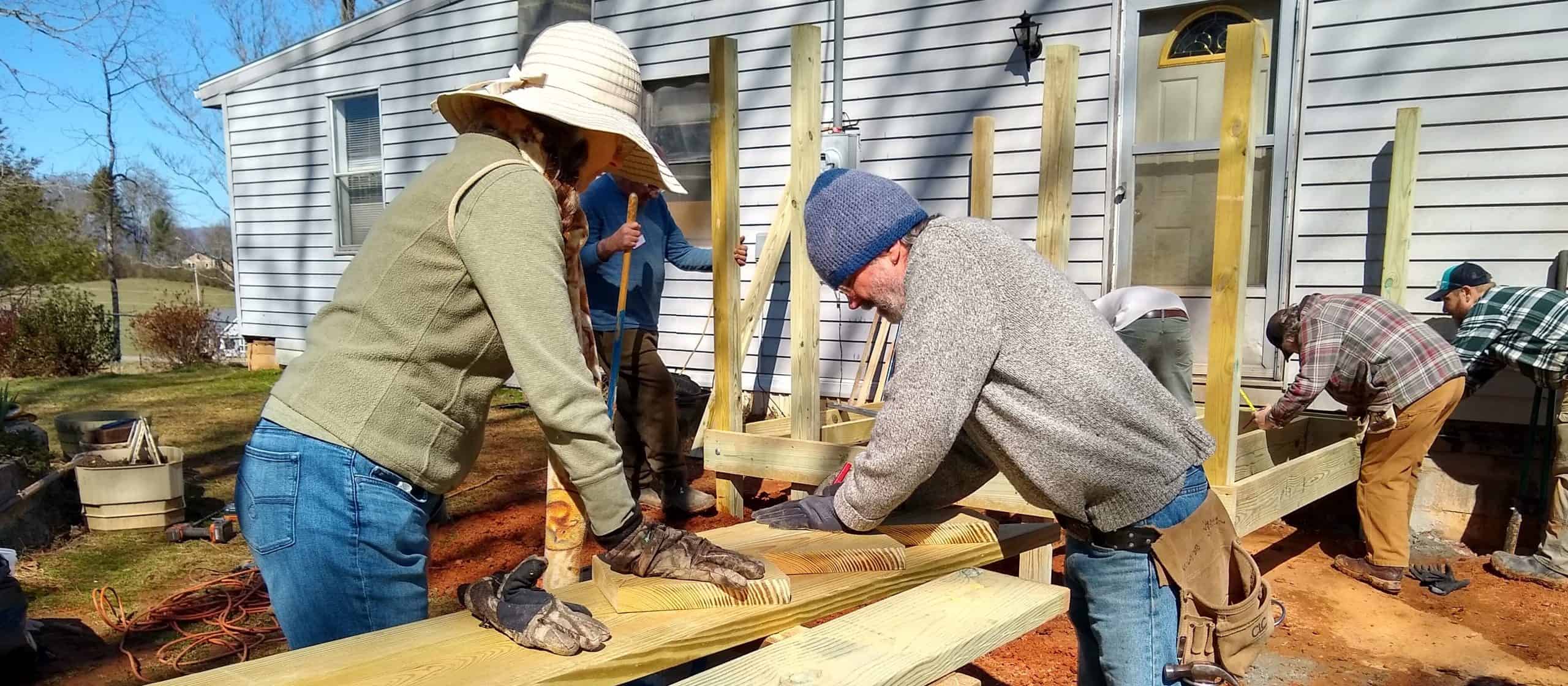 20 Years of Service in Madison County
Our Story
More than 20 years ago, the work of Community Housing Coalition (CHC) of Madison County began informally with local church congregations banding together to provide home repairs for families in need in their communities. Aging housing stock and the very low income level of many homeowners in the County resulted in an increasing need for such assistance. Community Housing Coalition was formed out of the need to coordinate the generous efforts of the various groups providing assistance to community members.
Today, 25% of Madison County residents live in sub-standard housing. A growing senior population, rising housing prices, the challenges of addiction, and generational poverty are all part of the environment in which we work.
CHC works with more than 100 households annually, responding to their most urgent repair needs, many of which threaten the health and safety of residents.
.CHC facilitates repairs for Madison County residents by leveraging grant funds available through the North Carolina Housing Finance Agency (NCHFA), local foundations, and Neighbors Helping Neighbors volunteer groups.
* The Essential Single-Family Rehabilitation (ESFR) program finances major home rehabilitation for North Carolina homeowners whose incomes are 80 percent or below the median for their area, serving elderly, disabled and Veteran households, and households with a child under the age of six whose health is threatened by the presence of lead hazards. 
* Urgent Repair Program (URP) finances emergency home repairs for North Carolina homeowners who are elderly or have special needs, whose incomes fall below 50 percent of the median for their area. Such repairs may correct housing conditions that threaten life or safety, such as failing septic systems, dangerous heating systems or rotten floors, or may pay for accessibility modifications to allow a client to remain in their home after an injury or serious illness.
* Healthy Opportunities Pilot was created by the NC Department of Health and Human  Services to address "upstream" drivers of health as part of the state's transition to Managed Medicaid. The program provides seamless connections between providers, patients, and human service organizations that help address drivers of health before they lead to chronic or critical health conditions. If you have Managed Medicaid and think you may be eligible for HOP repair funding, call 828-278-9900. Learn more about the HOP Program.
* Affordable Replacement Housing Program (ARHP), launched in 2022, is a new construction replacement home for CHC clients whose home is no longer able to be repaired. Partnering with the Asheville Regional Housing Consortium, Dogwood Health Trust, and WNC Bridge Foundation, four new energy-efficient homes will be built by the end of 2024, leveraging existing water, electric and septic systems.
* The Asheville Regional Housing Consortium provides CHC with HUD HOME funding to complete home rehabilitation and replacement projects for low-income families in Madison County.
*Local foundations whose funding goals align with CHC's mission and programs, are instrumental to funding for specific projects, capacity-building. Learn about recent grant awards.
* Neighbors Helping Neighbors (NHN) Volunteer Projects
CHC utilizes the power of local and summer mission group volunteers year-round for home repair projects that can be performed on a weekend or over a week-long period.
The Neighbors Helping Neighbors Local Volunteer and Summer Youth Group Volunteer Programs build community through volunteer and client engagement, encouraging clients to give back whenever possible by becoming volunteers themselves! The Summer Youth Group program brings together youth from all over the US for projects that generate goodwill and growth opportunities for energetic young people committed to service.